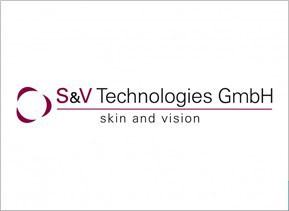 Skin & Vision is a multispecialty medical technology driven company that develops and manufactures devices for medical aesthetics and ophthalmology. S&V is located near Berlin and was found in 2007 as an AG by Christine F. Kreiner, an entrepreneur with a successful track record in the medical device industry. The company has as strong commitment to research and development of novel biomaterials. S&V aims to leverage team expertise with nature's intelligence to successfully design innovative medical devices to cover unmet needs of patients and health care providers. The company targets to develop added value medical solutions for medical aesthetics, wound care, ophthalmology and general surgery markets.
S & V Technologies GmbH (since 14th of January 2014) is organized and certified in accordance with EN 13485 and runs state-of-the-art laboratories and includes two different business divisions:
 Aesthetic dermatology
 Development and manufacture of biomaterials for medical use.
In S & V´s business division aesthetic dermatology innovative dermal fillers on hyaluronic acid basis are developed and manufactured. The CIS (Core-in-shell) technology (EU patent no. EP2170961, USA patent pending) ensures long-term stability in the dermis and easy application due to the smooth passage of the product through the cannula.
All hyaluronic acid gels are manufactured in the company's own, CE-certified clean room production plant in accordance with highest quality requirements.
The current product portfolio includes 12 CE-certified products that allow the physician to specifically address the individual needs of the patients and to choose the most suitable product, from rejuvenation to the treatment of fine lines and wrinkles and deep folds to strong volume augmentation or lip augmentation.
Another business division of S & V Technologies GmbH is specialized in the development and manufacture of biomaterials for application and use in the human body.
All biomaterials manufactured by S & V undergo comprehensive toxicological testing to ensure the high biocompatibility.
In the company's premises in Hennigsdorf S & V Technologies GmbH runs modern research laboratories occupying an area of more than 200 square meters, where new biomaterials, biocompatible polymers are synthesized, are tested for their suitability for the intended use and for their biocompatibility, and undergo comprehensive toxicological testing. To meet the high quality requirements of S & V Technologies GmbH, only highly purified primary materials are used in the manufacture of the biomaterials. All raw materials are tested for purity and compliance with the defined specifications in the analytical laboratory that is equipped according to the latest technical state-of-the-art.
In this way, the residual monomer content is determined, material constants are established, long-term stability tests are performed, and the biocompatibility is tested in toxicological assays.
Supported by internal audits, the S & V quality management system ensures a high, reproducible quality of all products manufactured by S & V:
Quality – MADE IN GERMANY